Rainbow Six Siege Steel Wave release date and all the latest details
Rainbow Six Siege Operation Steel Wave is fast-approaching. Official details are scarce, but between the Year 5 panel, the first official teaser from Ubisoft, and a few key leaks we now have a pretty good idea of what to expect when Steel Wave launches. In typical Siege fashion, most of what we know about the upcoming season comes from leaks, datamines, and occasionally Ubisoft, so a lot is still unknown and unconfirmed.
Thanks to the Year 5 panel unveiling back in February at the Six Invitational 2020 in Montreal, we already know a few concrete details about Operation Steel Wave. The Year 5 roadmap confirms that we'll be getting a rework of the iconic House map when the Steel Wave arrives, as well as two Rainbow Six Siege new operators, one from South Africa and the counterpart from Norway. It's also possible that we will see the long-awaited Rainbow Six Siege Tachanka rework, but that one remains less likely.
We do have one leak from well-known R6 leaker Kormora on ResetEra, who says there will be a new hard breacher and an operator with a pyramid-shaped gadget. Previous Reddit leaks drawing on .json files from the official Rainbow Six Siege website also suggest the names of the new gadgets used by our Steel Wave operators. However, shortly after the first official teaser was dropped an account popped up on Twitter and started posting operator details and trailer snippets for the new season. The account was deleted almost immediately, but not before Reddit gathered up and reposted all of the details.
Join us as we detail everything we know about the Operation Steel Wave, from its likely start date, to operator, gadget, and weapon details.
Rainbow Six Siege Operation Steel Wave release date
So, when is the Rainbow Six Siege Steel Wave release date? June 8, 2020 is our best guess. While the Pro League Finals for Season XI have been cancelled, they were set to take place next weekend. So with this teaser dropping mid-week, we still anticipate a new season reveal and subsequent test server launch some time around Monday 18 May, 2020. Recent test server runs have lasted three weeks before the new build arrives on PC, hence our June 8 prediction.
Rainbow Six Siege Steel Wave reveal trailer
The Operation Steel Wave reveal will take place on Monday 18 May at 12pm ET.
Rainbow Six Siege Steel Wave trailer
The aforementioned Twitter account @r6Leak has revealed pretty much everything about the new season, including this Steel Wave trailer:
FULL LEAKED TEASER TRAILER FOR Y5 S2 New Operators from Rainbow6
We see both the new Norwegian and South African ops, the former travelling down an elevator shaft on a presumed rescue operation, the latter stalking a target from a tree in the savanna.
There aren't many details on offer here, but we do know that the attacker is called Ace, while the defender is Melusi.
Rainbow Six Siege Steel Wave operators
We'll have to rely on a mix of datamines and leaks for this section. Ace is rumoured to be the game's fourth hard breacher by well-known Rainbow Six Siege leaker Kormora on ResetEra. A .json file leak on an official Rainbow Six Siege site picked up this gadget phrase: S.E.L.M.A. Detonations. So perhaps his breaching device will be more like Thermite and Hibana than Maverick's blowtorch.
The @r6Leak account, which posted the leaked trailer, also alleges that both of the new operators will use recycled weapons, including the AK-12, Super 90, T-5 SMG, and M1014. It's worth pointing out that we can see what looks like the RG15 being used by Melusi in the leaked trailer.
As for Melusi's gadget and role, we're a lot less clear. All we know at the time of writing is that the trailer shows it producing some kind of distortion effect, and according to ResetEra's Kormora, it's shaped like a pyramid.
House rework
We've already seen most of the House rework in Ubisoft's last season panel. The core of the map is unchanged, but Ubisoft has expanded it like it was an actual suburban family expanding their home.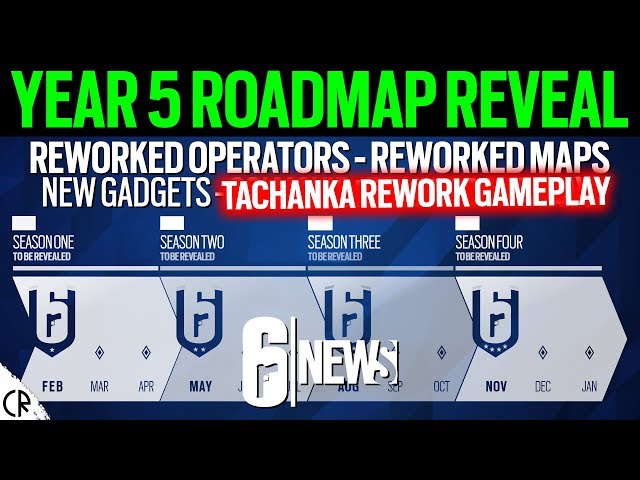 Construction has finished revealing a beautiful, spacious bedroom with pink decor, the treehouse has been refurbished with a slide, and the APC entrance has been massively expanded with a rec room.
Year 5 Season 2 Battle Pass
We have almost no idea what the theme of this pass will be, but the Year 5 roadmap promises a new Battle Pass every season.
Proximity Alarm and Buffchanka
These were both shown off at the Six Invitational 2020 in Montreal with no specific release date for either one. There's no clue that these are arriving this season, but we can dream.